When it comes to choosing the best scented candles for the changing weather, scents like pumpkin spice, cedarwood, fig and so on come to mind. But despite the fact that autumn is about chunky sweaters, crunchy leaves, cozy nights in the house or out of the house by the fire, honestly, one of the reasons we all look forward to fall are all of the candle options that will make our homes feel cosier than ever. and choosing refreshing, fruity scents we usually enjoy in the muggy humidity of late summer is not a taboo in autumn too. The autumn weather can be controlled by you depending on your mood, so wether you prefer musky scents, spicy scents, or fruity and sugary scents, you can custom your autumnal scents as you like it. So to bring the fall goodness to your homes this Autumn, we've paid attention to scents that ranges from pine, pomegranate, to vanilla you can shop below, happy shopping: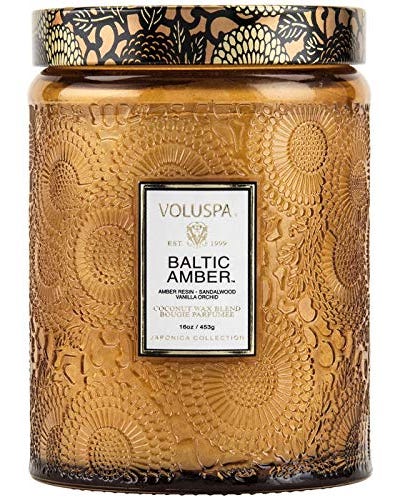 Baltic Amber Large Glass Jar Candle 16 oz 
This candle is with floral scents and 100 hours burn time
Candles Relish Jar Collection Candle, 9.5-Ounce, Red Pomegranate and Spruce
A signature soy wax candle scented with pomegranate and spruce, with 60 hours burn time and comes in other scents like – Aqua Ocean Tide and Sea Salt, Balsam Fir, Dandelion and Clover, Fresh Fig and Cardamom, Gardenia and Tuberose, Ocean Tide & Sea Salt, Purple Lavendar and Thyme, Salted Grapefruit, Vanilla and Oakmoss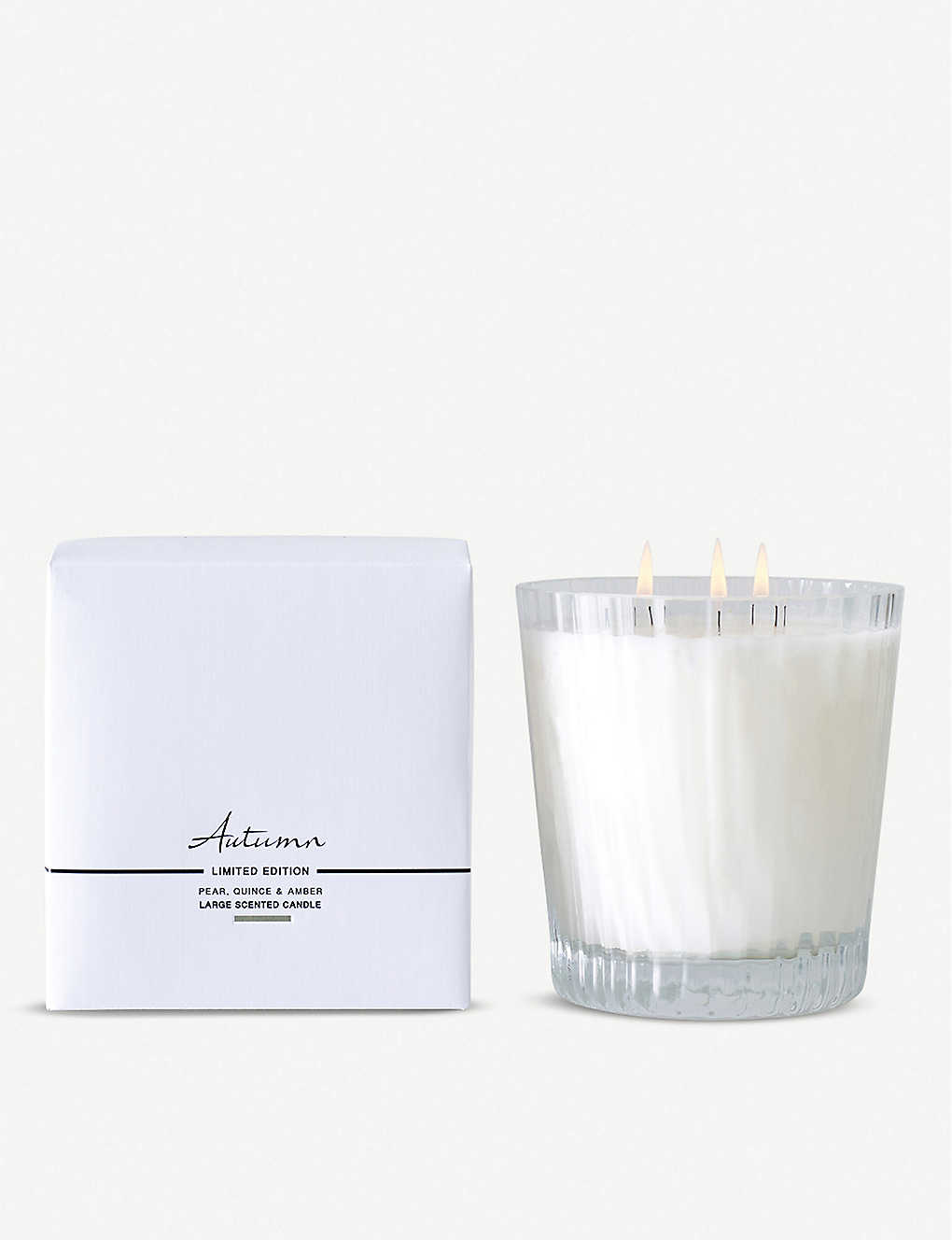 Autumn large mineral wax candle
This ornate antique artefacts is echoed by the bird Cameo pattern illustrating this pink and green Fumus-scented candle, filled with wax which releases notes of birch, orange leaves and camphor.
The Cire Trudon's three-wick Ernesto candle is a warm and spicy aroma candle with notes of bergamot and rum, oak wood, patchouli, leather, moss, and tobacco. 
This candle has a 60 hours burn time and features a fruity and botanical fragrance that reminds us of summer time. The candle was created with an infusion of raw cedarwwod bark with notes of fig leaves, ripe peaches, and coconut milk with a woody undertone when burning
Abd El Kader medium scented candle
This candle is with top notes of spearmint, ginger, jasmine, sweet vanilla and clove.
This candle is a playful candle with chewing gun scents with notes of mint, pink pepper, thyme and cassis pulp.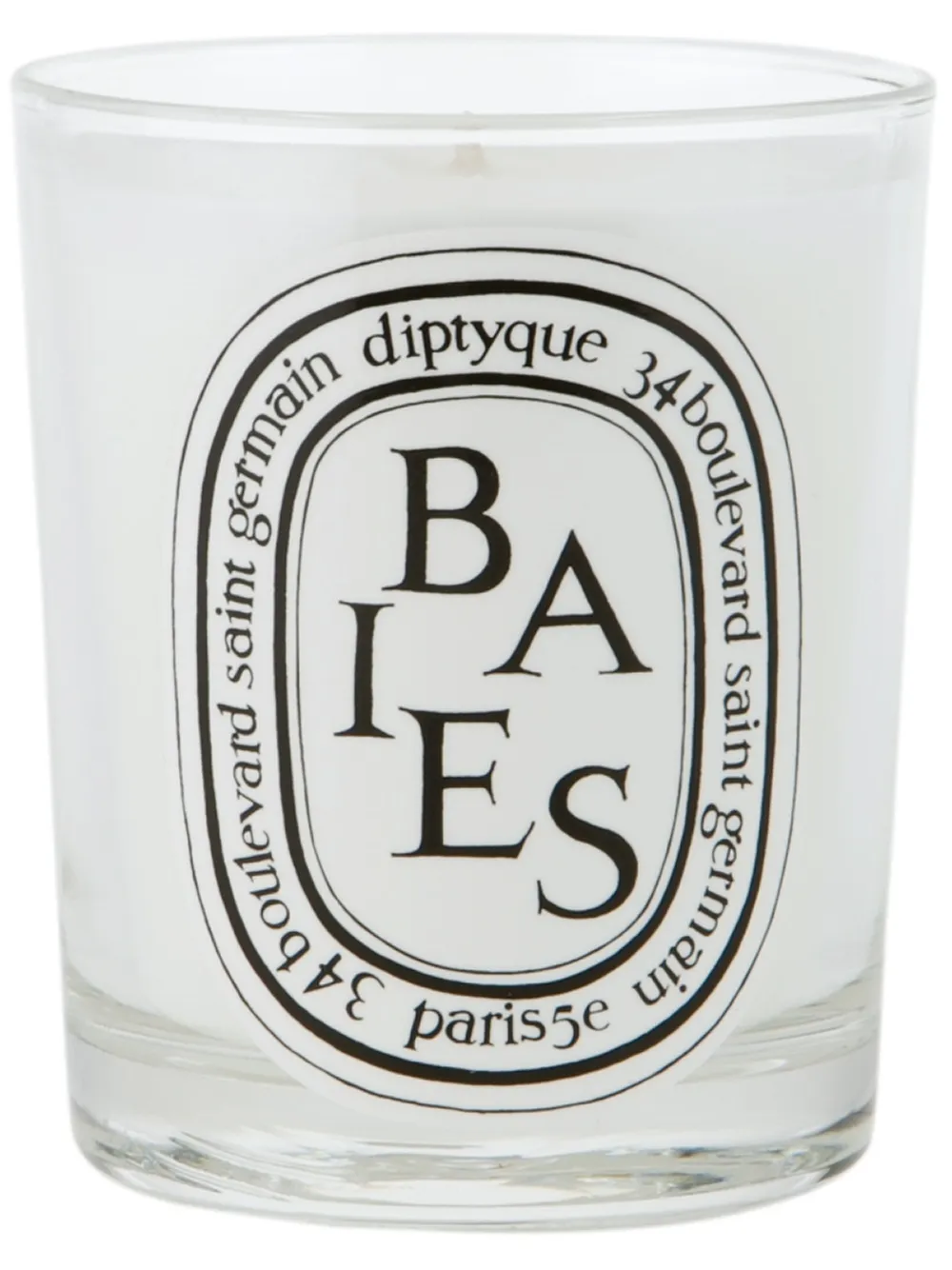 Safran Spice Scented Candle – 350 ml
Fragranced Candle Fleur Fantome – Floral Scented – 240 g/8.4oz
Fragranced Candle – Bibliotheque 70g
By Lola Joseph
Images: independent.co.uk, Amazon, Farfetch, Matchesfashion, Harvey Nichols and Selfridges
Our Links:
This is a disclaimer to let you know that we use affiliate links and as a customer you do not pay more because we have used an affiliate link. It does not affect you in any way other than a small percentage of the sale may go to the company who generated the link. You pay no more, no less for buying, it's just a couple of pounds goes to the company who influenced sale of the item. So for you as our customers it's a way of supporting what we do.