Swedish retailer -Ikea, has collaborated with Ben Gorham, founder of luxury fragrance and fashion house Byredo on OSYNLIG for a collection of 13 mood inspired scents, that heighten dreams, past achievements and the joy of being at home.
The frangranced candles are priced between £5 to £25 which ranges from small, medium, large and will be launching in stores only in November 2020
OSYNLIG is the collection of the 13 mood inspired scented candles and for candle lovers, the Byredo candles at Ikea for as cheap as £5 will be a good thing to celebrate this year considering how bad the year had been. Byredo candles are luxury candles that are priced at £59 at our favourite luxury departmental stores  like Selfridges and Harrods.
The brand debut their press release: "I've been interested in making products available to as many people as possible… I felt that [Ikea] was one of the few [retailers] that I could collaborate with and actually develop and manufacture a product of this quality and make it available at this price point. That's one of the unique facets of Ikea's approach and competency" said Gorham.
In other to allow a broad appeal to the Byredo's potential and true customers globally, the brand took its time to perfect the creativity of the candles. Approximately a year to be honest, from intensive research, to home visit sand crowdsoucing.
The press release reads "Byredo has worked in a very personal, subjective manner when it comes to translating memories into smells," Gorham said. "In this project with Ikea, not only have I been able to utilize the philosophies of the Ikea organization and structure, we've also been able to approach the idea of smell in the home as a completely democratic process, involving many hundreds of people and creators and focus groups to understand how we can create a system or spectrum of smells that appeal to many, many people."
The 13 scented candles have their unique notes based on three categories – fresh," "floral" and "woody", and no prefrence had been placed on any but to allow people with their open mind make their choices. The collection were cladded in lidded handmade ceramic vessels compare to the brand's iconic black and white minimalist container, each of the handmade ceramic vessels come in two earthy tone colours, colours that represent the ingredients of the candles. The vessels are also sustainable which means they can be reused after buring out.
The collection will be lanching in November 2020, on time for the holidays, checkout the Byredo x Ikea Osynlig collection below: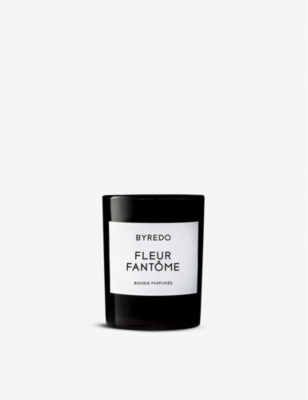 Fleur Fantôme scented candle 70g
By Lola Joseph
Images: Ikea, Selfridges, Harrods
Our Links: This is a disclaimer to let you know that we use affiliate links and as a customer you do not pay more because we have used an affiliate link. It does not affect you in any way other than a small percentage of the sale may go to the company who generated the link. You pay no more, no less for buying, it's just a couple of pounds goes to the company who influenced sale of the item. So for you as our customers it's a way of supporting what we do.
e