I was walking around my house the other day, and I travelled into my world of style fantasy, and what came up? turtleneck bodysuit paired with a legit jeans that huges every curves in my body, accessorised with a solid pair of ankle boots.
I love bodysuits especially the turtleneck ones, they keep you warm during the cold days, and you don't have to worry about your top coming out of your jeans, everything is tucked in and sucked in. The turtleneck bodysuits have been seen on our favourite celebrities like Kim Kardashian who rocked bodysuits and fitted pants about this time last season and our favourite supermodels like Gigi Hadid can't live without them.
Turtleneck body suits are fall staples everyone should have in their closets, they are like our style esssentials, just like camis, bralets, underwears etc. Turtleneck bodysuits can be paired with jeans alone, or can be worn as a layer under our original style like blazers, or maxi dresses/skirts. Wearing bodysuits as part of your daily style this fall makes getting dressed and keeping warm easy.
Turtleneck body suits come in variety of fabrics, like knit, cotton, velvet e.t.c, some come in long sleeves, short sleves, plunging necklines, open backs, and so on.
If you ask the models, they will tell you that neutrals are always the best shades when choosing the right bodysuits, why? because neutral colour goes with everything from your skintone to your original style. If you're wearing it to work, it will help you look more professional, but it doesn't stop there, you can also go for a pop of colour for those night-outs with friends or you can also opt for the vibrant patterns just because you love to have fun.
Bodysuits are very versatile and thanks to brands like Pretty Little Thing that now have them in varied sizes. Bodysuits is designed like a swimsuit but cannot be used as one due to the variance in fabrics, it's a one piece form-fitting and skin-tight garment that covers the torso and the crotch. You are adviced that when choosing the right turtleneck bodysuits, to always choose the ones with snaps in the crotch, for easy opening and closing for trips to the bathroom. and the strectchy ones that makes dressing easy.
Here are our editor's favourite picks: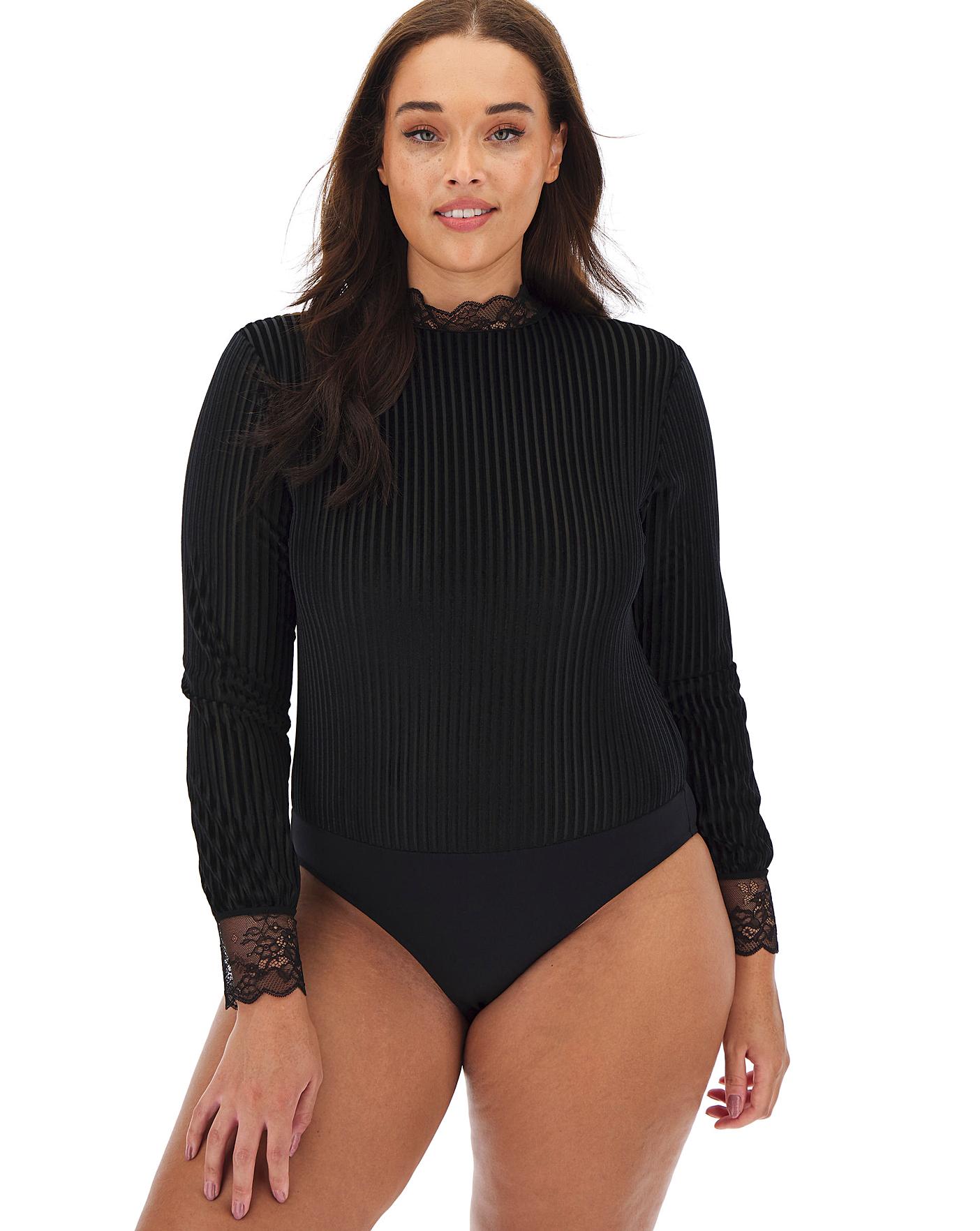 Was £32, Now £14.00 at Simplybe
black rib high neck puff sleeve bodysuit
black halter neck ruffle sleeveless bodysuit
Burgundy snake Print Roll Neck Long Sleeve Bodysuit
By Lola Joseph
Images: Simply Be, Farfetch, Shopbop, Missguided, Pretty Little Thing
Our Links: This is a disclaimer to let you know that we use affiliate links and as a customer you do not pay more because we have used an affiliate link. It does not affect you in any way other than a small percentage of the sale may go to the company who generated the link. You pay no more, no less for buying, it's just a couple of pounds goes to the company who influenced sale of the item. So for you as our customers it's a way of supporting what we do.