When Rihanna dropped Fenty Skin 3 steps skincare, it featured face wash(Total Cleanser Remove It-all Cleanser – $25), toner(Fat Water Pore Refining Toner Serum – $28) and maoisturiser(Hydra Visor Invisible Moisturiser Broad Spectrum SPF 30 Sunscreen – $35), but the only problem we had with the moisturiser was that it's a day cream because of the spf it contained, but thanks to Rihanna for catering to our needs, she has now added Fenty Skin Instant Reset Overnight Recovery Gel-Cream – $40, which is a night cream that complements the existing daytime moisturiser and sunscreen. This has made the Fenty Skin collection a four step routine, which means you can wash tone and moisturiser with the SPF moisturiser in the day and wash, tone and moisturise with the night cream at night.
Now, let's get into the review of the Instant Reset Overnight Recovery Gel-Cream. We all know, when it comes to Fenty Skin, Rihanna likes to make her skincare products to have many functions, her toner for example is also a serum, her day time moisturiser is also a sunscreen and the cleanser is also a makeup removing cleanser but for the night cream, how many function does it have and what active ingredients does it contain?
First, when the product was released, Rihanna took it to instagram saying "I took my time with this one," "[Apply it] at night and wake up with refreshed, nourished, juicy skin."
The Instant Reset Overnight Recovery Gel-Cream is cruelty free, and it came in the Fenty Skin signature purple blue pot re-fillable packaging, with a lid that flips open where the spatula to apply the cream is neatly stored, then when fully opened comes the pale pink night cream itself. The cream is said to be a lightweight gel-cream that moisturises, brightens dark spots and reduces the apppearance of pores.
Rihanna said during a press release "When you're sleeping your body's in recovery mode and I wanted to maximize that for the skin. I wanted a night cream that would reset my skin and relieve it from all the stress of the day so you wake up fresh, nourished and glowing,"
The ingredients in the instant recovery gel-cream are hyalauronic acid-which plumps and hydrates the skin, jojoba seed oil, Kalahari melon oil, glycerin, niacinamide-which reduces the appearance of dark spots, even skin texture and skin tone. It also contains antioxidants like green tea, vitamin E and aloe – which soothes skin and with fresh scent inspired by lush tropical fruits and flowers.
The beautiful thing about Fenty Skin packaging is that, it solved alot of problems we all go through during a beauty routine, where the lid is sometimes lost or the content sometimes spilled, but with Rihanna's innovative instinct, we are able to get the products in packagings that do not need to be opened, one twist and your product is out, so also is the new night time cream, we are able to store the applicator spatula in a safe compactment within the packaging. This will help preserve the ingredients and maintain hygiene during application(you don't have to use your fingers, just the spatula where you can use it to scoop the cream, apply onto your palm to face, then wash and restore.).
Overall from the review of a beauty director at Fashionista, the ingredients in the product are well loved, it's truly lightweight, it's not greasy, the gel-cream is like the texture of a pudding. it does truly resets your skin overnight but not sure if it refreshes as the brand has claimed. The night gel-cream is something to look forward to everynight due to its abilty to reset the skin. The beauty director at fashionista after testing the product does not think the gel-cream can reduce the appearance of dark spots and pores over a week but few weeks. The beauty director also said "the formula really didn't live up to that whole "juicy skin" promise for me. I'm not sure how Rihanna and the Fenty Skin powers that be define "juicy skin," but to me it would be a dewy, ultra-hydrated, taut, plump complexion with fewer noticeable lines (thanks to all that moisture infused into it) and a radiant, glow-y, glass-like finish."
For night a cream, I believe it should have a retinol, an active that's excellent for matured skin. We guess the brand is trying to make the gel-cream affordable (maybe the next realease will contain retinol).
We appreciate all the Fenty Skin collection but the only issue with the ingredients is that they're for younger audience who are trying to maintain and take care of their already youthful skin, Fenty Skin also needs to cater to the middle age to mature audience who are trying to delay aand repair aging.
I don't mind a mild scent from a natural ingredient that won't make skin cry but artificial scents in  skincare  products can sprout up reservations in people with sensitive skin. That is why I am a little bit reserved about the scents in Fenty Skin products, I believe the brand needs to expand its products to various people with different skin types and categories(especially to sensitive skin and dry skin) but so far I haven't read or heard anyone comaplain about the scent reacting badly to their skin.
As per the refillable packaging, it's is excellent, a little way Fenty Skin is contributing to protect it's evironment, but I wonder why the night cream cannot come in a squeezable twist cap bottle instead of a jar/pot as the top lid can still be lost(with that you don't have worry about deactivating the gel-cream solution or losing the lid).
The Fenty Skin Instant Reset Overnight Recovery Gel-Cream is now available for sale at fentyskin.com and retails for $40 and cartride refill for $36.
Shop the Fenty Skin collection below: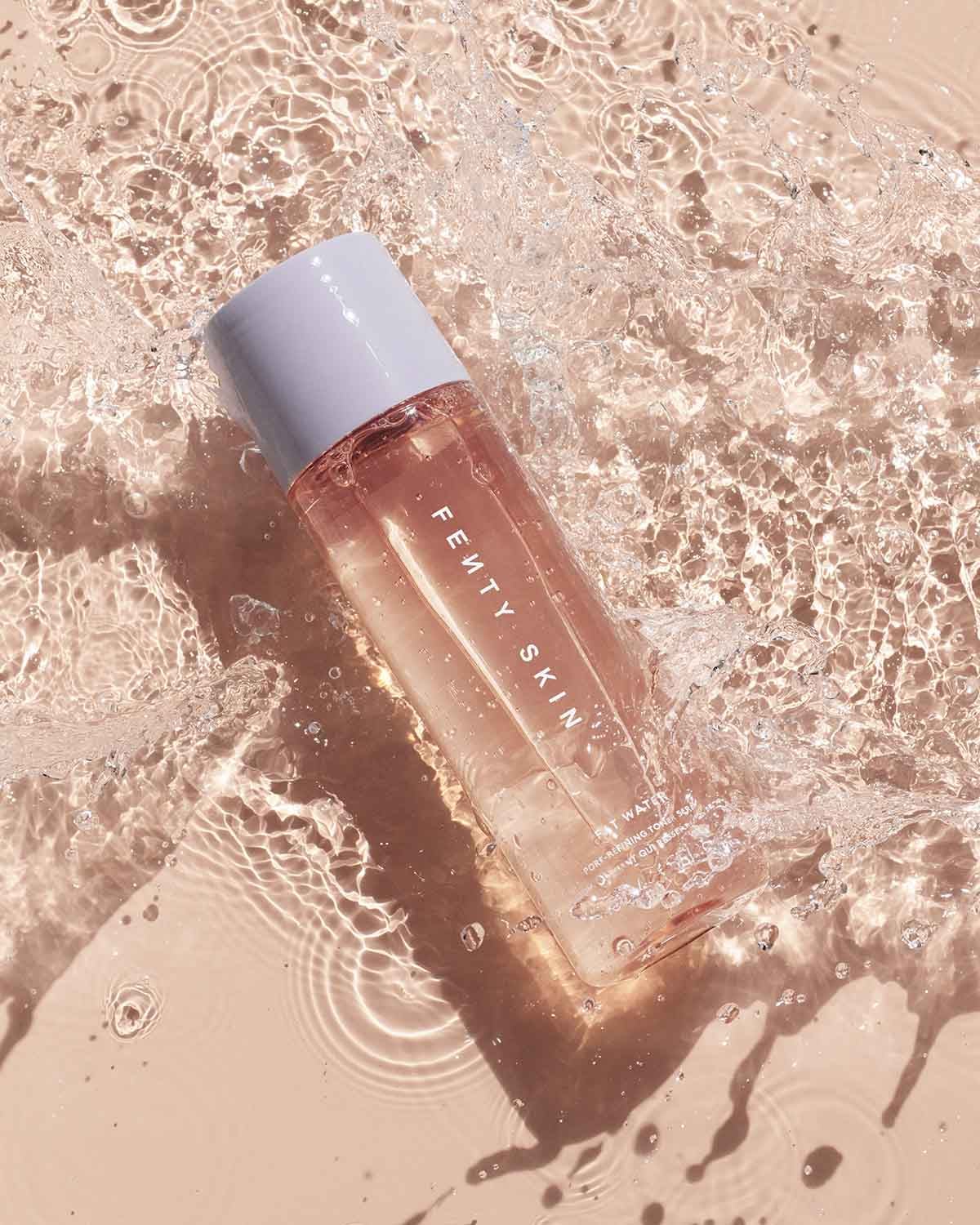 By Lola Joseph
Images: Fenty Skin
Our Links: This is a disclaimer to let you know that we use affiliate links and as a customer you do not pay more because we have used an affiliate link. It does not affect you in any way other than a small percentage of the sale may go to the company who generated the link. You pay no more, no less for buying, it's just a couple of pounds goes to the company who influenced sale of the item. So for you as our customers it's a way of supporting what we do.