Turtleneck tops are basics in any autumn-winter wardrobe, they are part of any cold season style looks. To keep warm and to wear those stylish outfits that you won't normally reach out for in the cold season, turtlenecks are the solution.
Turtleneck is a high, round, close-fitting neck on a garment. They can come in tops, dresses, knit jumpers e.t.c. but for today, we'll be talking about turtle neck tops.
Turtleneck tops can easily be styled with your favourite denim jeans trousers, midi skirts, or part of your suit of look and can be finished with your favourite sneakers, thigh-high boots, loafers e.t.c.
Turtleneck tops can also be worn as part of your evening wear, it can be styled with your favourite slip dress, part of a cocktail dress finished with pumps and clutch. When turtleneck tops are worn as part of a style look, the only purpose is to add an extra layer of warmth to the style.
Turtleneck tops can also come in bodysuit form which makes them easy to wear and style without worrying about folds or fly-outs. 
Designers have had many takes on this wardrobe classic, some come in prints, cropped, some in plain cotton wool fabric, some ribbed fabric, some in knitted cashmere, some in tye-dye e.t.c.
When it comes to budgeting, buying a few luxury pieces for special occasions and a few high street brands for work and running errands is advised.
Here are the best on the market and to stock up right now as they sell out so fast:
Ciclista roll-neck ribbed wool top
Plus Rigby turtleneck jumper in black
Was £26.00 now £16.00(-38%) at Asos
Logo-print jersey roll-neck bodysuit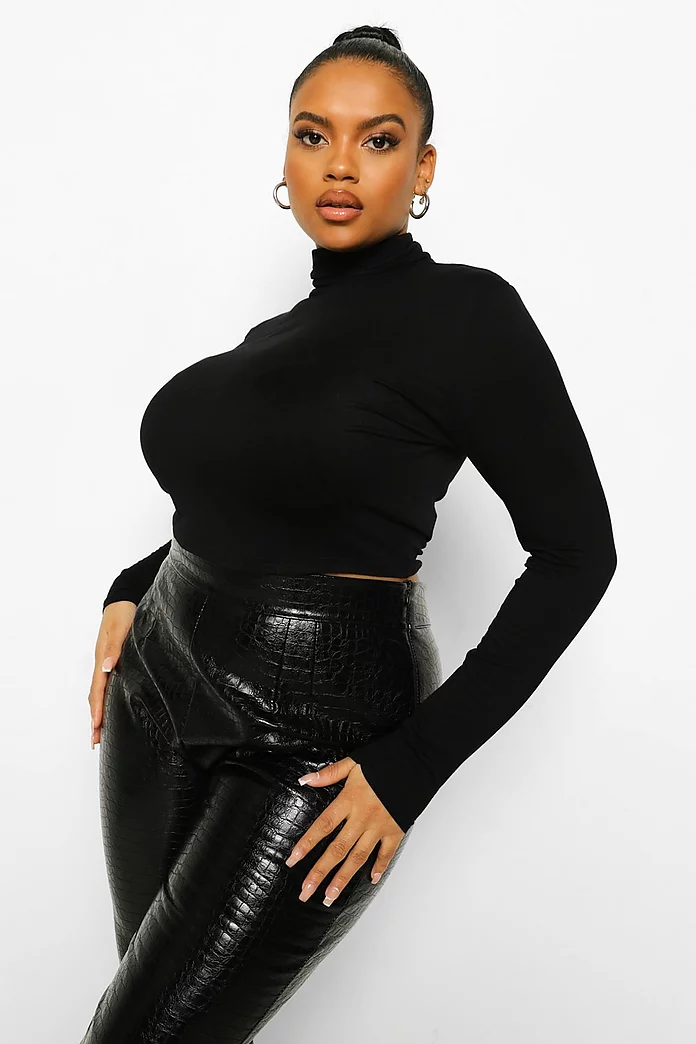 Now £8.00 (20% OFF) Was £10.00 at Boohoo
For Standard Size
Roll Neck Long Sleeve Crop Top
Now £8.00 (20% OFF) Was £10.00 at Boohoo
black long sleeve turtle neck top
Vintage Check Stretch Jersey Turtleneck Top
Was £35.99 now £10.65(-70%) at Asos
Illustrative-print roll-neck jersey top
Raundi grey cut-out wool-blend jumper
Turtle Neck Long Sleeve Knitted Rib Bodysuit
Now £9.60 (20% OFF) Was £12.00 at Boohoo

Demee green cashmere-blend jumper
Ataraxia-print roll-neck jersey long-sleeved top
Puff-Sleeved Issa Turtleneck Top
Navy roll-neck cable-knit jumper
By Lola Joseph
Disclaimer: Please note that we do run affiliate links on our website, this simply means we earn a commission of whatever you buy and does not affect you as a customer in any way.