Skims, the shape enhancing garment brand that includes bodysuit, bras, shorts e.t.c. whose shades must not be more than nudes with the simplest form of discription, e'g 'Fits Everybody Collection' is now a year old and the brand is not backing down with the cast that starred their campaign.
Skims was birthed in 2019 with simple nude shapewears which has now grown into featuring other comfy loungewear knits and new shapewear silhouttes for those unforseen red-carpet or party issues we get with our dresses e'g our girdle peeping through our long slit dress or a flash of boobs in our favourite deep plump dresses – skims is got the solution.
Skims products are now a must have staple among shoppers with the brand's ultra-breathable pointelle fibers and technologically innovative fabrics that has sky rocketed the brand to be a hit in the market.
Celebrating their one year anniverssary, the cast of the brand's campaign features Precious Lee, LaLa Anthony, Runner Willis, Jodie Turner-Smith, the Hamlin Sisters (Delilah Belle and Amelia Gray), Yovanna Ventura and Tiktok star Addison Rae, all will be exhibiting Skims best sellers and the well known 'Fits Everybody Collection'.
The campaign features video shot by Vanessa Beecroft, that has the stars doing normal things we all do from day to day, the stars were all lazing around in room covered with former Skims' campaign – Runner kneeling on the bed ignoring phone calls, KKW taking photos, Adisson Stretching and so on.






The campaign also features some lucky fans that includes three women: Maddison, Myleeza and Brandi. KKW is said to also give away a few pieces from her best sellers to 100 lucky customers with a personalised notes from KKW.
"It's wild to think that it's already been one year since we launched SKIMS. I'm eternally grateful for the love and support that our customers have shown both me and the brand. I've loved seeing everyone's photos in SKIMS and reading the comments on social media, and I wanted to use this time, the campaign, and customer gifting to really say thank you," Kim said in a statement . "The customers are our inspiration for developing new ideas and collections and there is so much more to come."
Kim Kardashian is of course one the blessed ones whose brand – Skims has been loved by many from celebrities to her fans around the world. KKW created the brand after she was frustrated by not finding a brand with shapewear solution that works like many of us. If I speak from my own exprience, I would walk the whole mall to look for a camisole that that hugs my body and stay in place underneath my outfit till I found a limited edition from H&M which I wore until torn just because of the solution it offered. So having Skims launch everyday solution to our underwear worries is uch a huge success to both the brand and its customers.
The brand offer sizes from XXs-4X, various cup sizes and close to skin tonal shades. The campaign will be launching September 10 and we're looking forward to it.
While waiting for the launch, why not shop the brand's favourite picks below:
Fits Everybody Triangle Bralette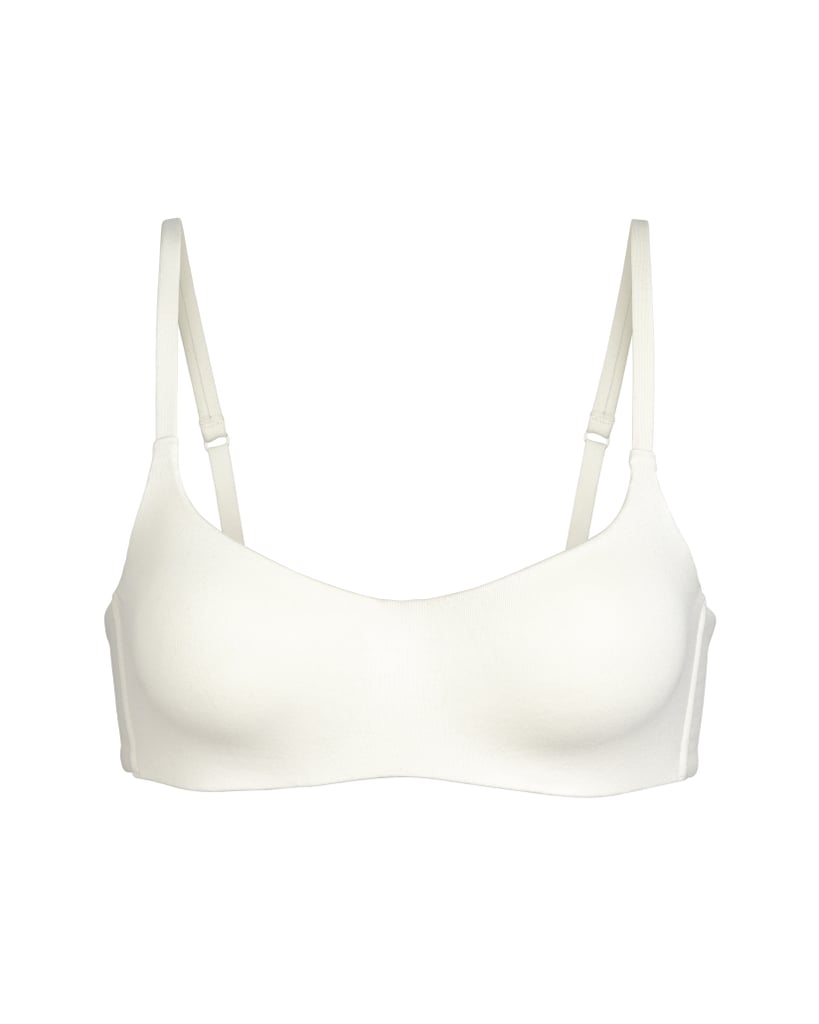 By Lola Joseph
Images: Skims