London Fashion Week Spring'21 prooves a success this season when Emilia Wickstead Spring'21 collection was displayed that feature looks that can be worn on red carpets, at a fancy evening affair, for an easy lunch, or an at-home dinner for two. But why didn't we see the dramatic silk gowns with huge bow backs, ballon-sleeved floor sweepers? Maybe it's because the global pandemic which has thrown a lot of brands off this season, allows Emilia Wickstead to go back to basics. Basics because she didn't think of the fancy grande moments from red carpets and award shows. She focused on what matter people/lives, let's forget about the camera, lights, blings!, let's focus on what a woman will want in this moment of crisis, What does she need now? What does she want to wear? Where is she going wearing that? and Who will she be dressing for?. The 32 looks from the Spring'21 collection answered these all.
Emilia Wickstead started planning this collection when the country and the rest of the world went into lockdown and with what she came up with, they can be dressed up or dressed down which fits perfectly for every woman in this global pandemic.
Wickstead's inspiration for her designs is from Faery Lands of the South Seas, a non-fiction book published in 1921 by travel writers James Norman Hall and Charles Bernard Nordhoff.  The tales reference the designer's homeland and her Samoan/New Zealand roots. She said; "Their descriptions are like fairy tales but it's an actual documentation of how they saw those places."
Some of the looks feature a cropped shirt with beautifully illustrated sailboat print repeated over cotton poplin full skirts, Polynesian fern sparsely placed on tailored maxi skirts and bandeau dresses, colonial shirting, and printed sarongs, the '90s minimalism, elegant series of tailored Bermuda shorts, and sweet bralettes and so on.
If there are any words to describe the collection, they will be is 'simple and elegant, the lockdown allows Emilia to simplify her designs from the fabric(cotton) used to the actual design. "I would meet my design assistant outdoors at the end of the street; we would talk and hold up fabrics in the light," she remembers, "That's how we put this collection together, and, of course, over countless Zoom calls."
The designer also revisited her archive, which is a skirt from her first collection, she repeated this look because of the closeness of the skirt's silhouette and movement to this season's vision. She also collaborated with Jeweler Jessica McCormack to create a 10-piece capsule collection of pearls and diamonds from the South Seas.
The Emilia Wickstead Spring'21 Ready To Wear presentation was shot by documentary filmmaker Robin Mellor, and the models were women of diverse sizes, ages, and race. "It actually still feels like we are putting on a show, especially as I was here last night—at midnight—moving things around, changing the lights, cleaning up whatever… It felt like it did when I launched my brand," Wickstead smiled. "I think when it's a smaller production you naturally have a more hands-on approach. Certainly, I feel as tired; I feel as emotional. In comparison to staging a show, I don't feel like this has been an easier route!" No doubt. But it was certainly worth it."
Here is the full collection below:
Mai floral-print balloon-sleeve cotton cropped top
Alula floral-print cotton midi skirt
Buckle grosgrain and leather slingback pumps
Petra belted wool-crepe midi dress
Aiden single-breasted wool-crepe jacket
Pacifica wool-crepe wide-leg trousers
Rosabel sweetheart-neckline wool-crepe jumpsuit
Juniper floral-print cotton-voile dress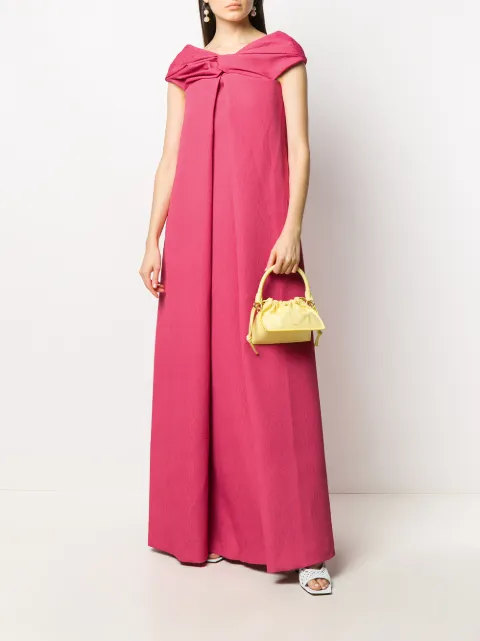 Padma off-shoulder crêpe midi dress
By Lola Joseph
Images: Courtesy of Emilia Wickstead, Farfetch, Matchesfashion, Mytheresa
Our Links:
This is a disclaimer to let you know that we use affiliate links and as a customer you do not pay more because we have used an affiliate link. It does not affect you in any way other than a small percentage of the sale may go to the company who generated the link. You pay no more, no less for buying, it's just a couple of pounds goes to the company who influenced sale of the item. So for you as our customers it's a way of supporting what we do.