The Brandon Maxwell spring'21 collection is a collection of comfort dressing. We all know what Covid'19 brought us this year, this has made many designers to put a stop to many things this year from fashion shows to new launches.
"So much of my life for the past few years has really been [about] being out there, and for the better part of a year, like everybody else, I've not been out there," he says during an interview, over Zoom, ahead of his virtual collection debut on Sunday. "I couldn't remember a time in the past 10, 11 years of my life [when] I'd been at home more than two to three days a week, in a row, when I wasn't on an airplane or a hotel or a car or a studio or putting makeup on." With stay-at-home orders in place, he now had this time to process, reflect and question. That made him realize that, when it came to his spring line, he "wasn't ready to go out there yet — into the criticism, into the people. I just was not ready." He went on to say "I stopped and started a lot — and I don't mean redoing it," he explains. "Sometimes when I felt like it was emotionally too much for me, I would just stop and come back to it. Thankfully, my team was very, very patient. I think I pushed this show back at least three times in November, just because I was not ready."
Despite not been ready to put a new collection out there, the remembrance of his first love for fashion where he would make clothes for his community of friends at his grandmother's store put him back inline to this collection. "It was a very healing experience for me because I think looking back, being around so many people was a fearful place for me. And I think it's become that in my career as well," he says. "When I could have one-on-one [time] and be in a space where I felt people could really see me for who I was, it was not only more comfortable and safe for me, it was also therapeutic."
The glitz and glam with status quo of the fashion industry was thrown out when the pandemic hit, this has made Brandon Maxwell to go back to square one. A state of mind that reminds you of who you are (a humble begining) and the purpose of what you're doing.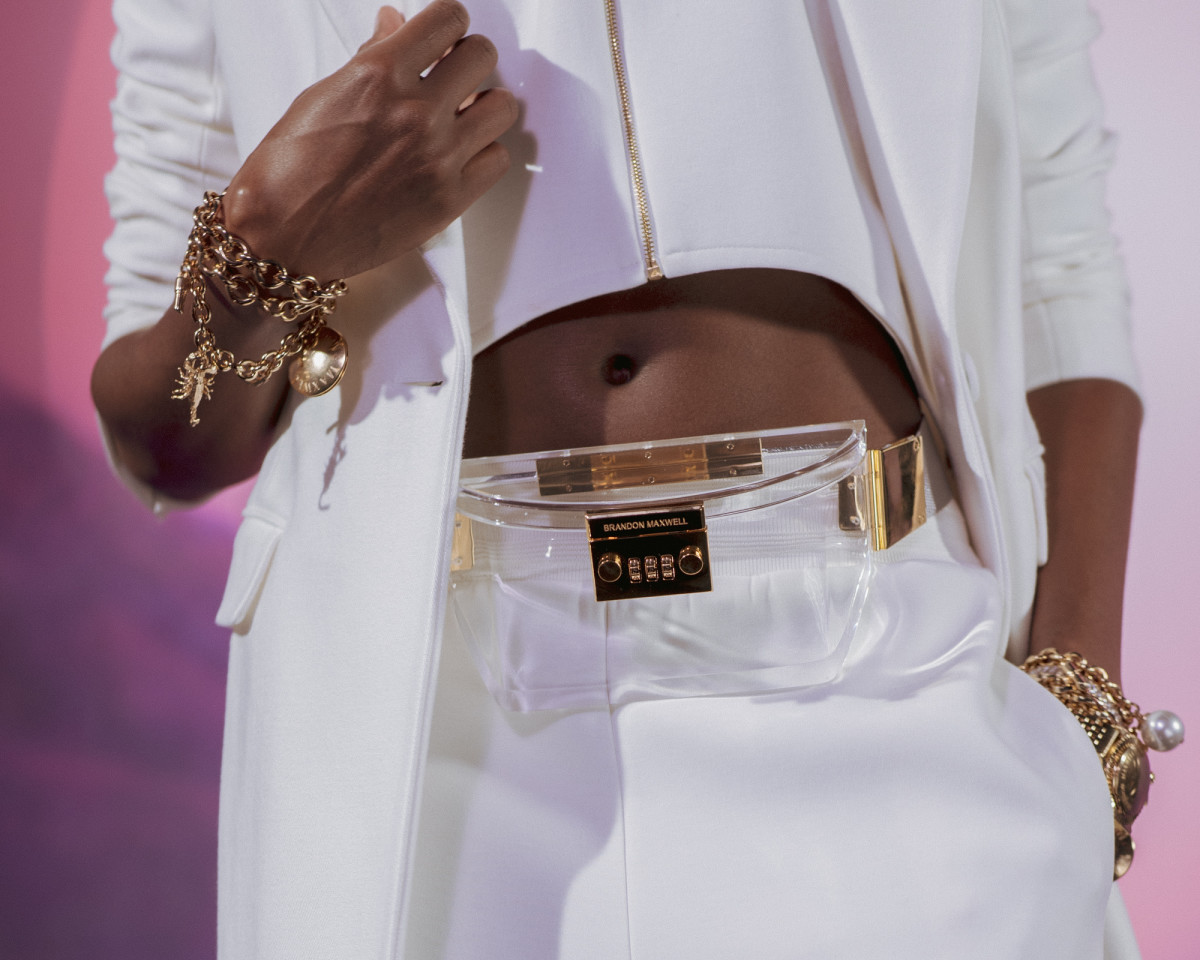 "Sometimes you're making collections and you don't even know why… I don't think it's normal to create at that pace," he argues. "I don't think it's realistic to tell that many stories in a year."
"I felt like the thing that had been missing in my life [was this] loss of understanding of who I was, [feeling] that I had moved so far away from the person who was in love with what they did originally," he explains. "So the most authentic thing that I could do was to go back to what it is that I do do: being in a room with people that I love — not with a big crowd, not with the expectations or worries of what anyone's going to think or the worry — and making choices that I love and being grateful to do it."
The feeling of loss inspired Brandon Maxwell to first start the design with black and white fabrics which were the cut-out dresses and tops that were first displayed on the runway, but his team later reminded him of his feeling of optimism (which is the feeling that aids him to get up and start designing this new collection) with the introduction of neons. Neons have been seen to be common on the Spring'21 runway e.g Tomford and now Brandon Maxwell, a prediction of next summer trend.
"Any storm that passes, the sun must come out after, and that's really what it was about," he says. "There was this sense of ease in the clothes. I think from far away, it's very much the Brandon Maxwell woman, which is a dressed woman. Close up, it's tailored sweatshirt bonded to jersey knit to neoprene — elements and things that felt a little more easy and a little more loose."
Despite the trend been set with new fabrics, shades and textures, the new lifestyle was not ignored during the making of this collection which is the 'Stay at home' fashion, the collection featured comfort wearing, work at home design and much more. The collection also feature cropped three piece suits accessorised with acetate belt bag another trend to watch out for.
The Brandon Maxwell brand is known for elegance, structure and timelessness which have been affirmed by CFDA awards, on redcarpets, on magazine covers, campaigns and most importantly the Alisters like the Royals(Duchess) and White house(First Lady) that can't stop wearing his pieces. All these characteristics were reflected in the Spring'21 collection.
"If you're looking far away, you see the body contrast, you see the Brandon Maxwell staples — this time, they're made in sweatshirt bonded to neoprene, the fabrics are much lighter," he explains. "I felt like we should be able to create pieces that felt reflective of the time that we're in, but still reflective of who they [the customer] are. And that was a hard line to walk." He also showed favourtisim in the collection by saying that he prefers the ones that;  "look very traditionally Brandon Maxwell, but the inner workings are very comfortable and loose and sort of stretchy"  "It feels like something you want to dress up at home for yourself, barefoot." Brandon's eyes for style and designs can't be over emphasized  but his ethics and ethos were; "Dressing should not be for everybody else. It should be for you."
Due to the pandemic, the brand did not design/create much of evening wears or red carpet wears;"There was no place for it,"  but much of athleisure:  "I'm hopeful that this will lead us into… more of a sense of modernity and a little bit of a cool factor." So was the production of the fashion show, the show was very easy and simple, directed by his fiance -casting director Angus Munro. When he would have criticised his designs and worry about acceptance of the pieces from past experience but this time was more focus in the Joy of Life and Optimism that inspired the collection.
The collection is said to be duc for shipping by end of May 2021 to early June 2021 when restriction to movement would have been eased.
Here are the full collection below:
Photo: Kevin Tachman/Courtesy of Brandon Maxwell
Photo: Kevin Tachman/Courtesy of Brandon Maxwell
Photo: Kevin Tachman/Courtesy of Brandon Maxwell
Photo: Kevin Tachman/Courtesy of Brandon Maxwell
Photo: Kevin Tachman/Courtesy of Brandon Maxwell
Photo: Kevin Tachman/Courtesy of Brandon Maxwell
Photo: Kevin Tachman/Courtesy of Brandon Maxwell
Photo: Kevin Tachman/Courtesy of Brandon Maxwell
Photo: Kevin Tachman/Courtesy of Brandon Maxwell
Photo: Kevin Tachman/Courtesy of Brandon Maxwell
Photo: Kevin Tachman/Courtesy of Brandon Maxwell
Photo: Kevin Tachman/Courtesy of Brandon Maxwell
Photo: Kevin Tachman/Courtesy of Brandon Maxwell
Photo: Kevin Tachman/Courtesy of Brandon Maxwell
Photo: Kevin Tachman/Courtesy of Brandon Maxwell
Photo: Kevin Tachman/Courtesy of Brandon Maxwell
Photo: Kevin Tachman/Courtesy of Brandon Maxwell
Photo: Kevin Tachman/Courtesy of Brandon Maxwell
Photo: Kevin Tachman/Courtesy of Brandon Maxwell
Photo: Kevin Tachman/Courtesy of Brandon Maxwell
Photo: Kevin Tachman/Courtesy of Brandon Maxwell
Photo: Kevin Tachman/Courtesy of Brandon Maxwell
Photo: Kevin Tachman/Courtesy of Brandon Maxwell
Photo: Kevin Tachman/Courtesy of Brandon Maxwell
Photo: Kevin Tachman/Courtesy of Brandon Maxwell
Photo: Kevin Tachman/Courtesy of Brandon Maxwell
Photo: Kevin Tachman/Courtesy of Brandon Maxwell
Photo: Kevin Tachman/Courtesy of Brandon Maxwell
Photo: Kevin Tachman/Courtesy of Brandon Maxwell
Photo: Kevin Tachman/Courtesy of Brandon Maxwell
Photo: Kevin Tachman/Courtesy of Brandon Maxwell
Photo: Kevin Tachman/Courtesy of Brandon Maxwell
Photo: Kevin Tachman/Courtesy of Brandon Maxwell
By Lola Josph
Image Courtesy Of Brandon Maxwell