When it comes to pyjamas during Christmas, it reminds us of those ugly pyjamas or sweaters. If you don't know what I mean, these are the pyjamas with santas, penguins, candy canes e.t.c printed on them. Guess what? we never wear them again after Christmas eve and Christmas night.
So for 2020 Christmas, we are switching things up a little bit, how? let's make it fashionable. We want those Christmas pyjamas we can wear on Christmas eve and Christmas day nights and also to run errands or join friends for drinks during the day.
I am talking about those stylish PJs that's been trending for almost two years now, you can wear the top with a pair of jeans and a stylish cardigan or even match them and layer it with a turtleneck under for extra warmth. These pyjamas can be worn throughout the year (I mean from winter into summer).
When it comes to choosing the right stylish ones this year, ensure you opt for the bold solid coloured ones from pink, gold, leafy green, red, to orange e.t.c and the printed ones that range from florals, polka dots, stripes and even tie-dye.
So this year, the forbidden fruits are the ugly pyjamas and the luxe ones are holiday-worthy
Check out the luxe pyjamas you should wear this holiday: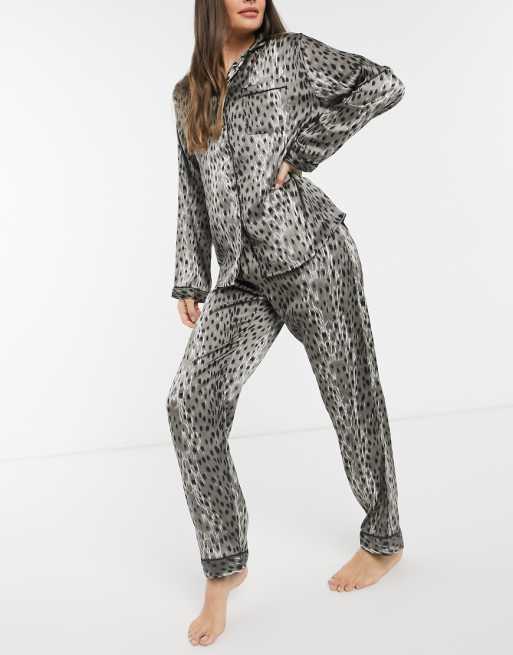 Loungeable satin leopard print shirt and trouser pyjama set
By Lola Joseph
Images: Asos, Harvey Nichols, Farfetch, Asos, Shopbop, Amazon, Pinterest
Disclaimer: Please note that we do run affiliate links on our website, this simply means we earn a commission of whatever you buy and does not affect you as a customer in any way.